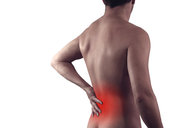 A healthy and fit man in his forties was sent to my Boston area Neuromuscular Therapy center by his wife because of continuous, chronic stiffness and pain in his back. It turned out to be caused by uneven leg length. (medical term: LLLI or Lower Limb Length Inequality).
He had no accidents or surgeries that could have contributed, just a fractured ankle at age fifteen. His condition had be going on for fifteen years and he didn't know how it started. He had always been physically active which helped somewhat, and had tried various treatments and exercises, but hadn't stayed with anything for long.  His current exercise choices included lifting weights and playing golf.
He felt stiff from the time he awoke in the morning right through the day and couldn't stand for more than ten or fifteen minutes without discomfort. Cocktail parties and grocery store lines were avoided. His back even felt fatigued just from sitting all day at work. The big clue for me was that he said his tailor had trouble getting his pant legs to fit. He added that he had a c-curve scoliosis. That was all I needed to hear.
Lower Limb Length Inequality is not uncommon and often results in back pain. Read more about how Teddy got out of pain.