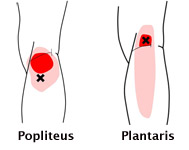 Pain behind the knee when crouching or going downstairs could be from the little popliteus or plantaris muscles. More likely the pop. I had a personal experience with this muscle backpacking in New Hampshire. My son and I hiked down the mountain after being in the sky for a few days and when reaching flat ground I couldn't walk to my car! The back of my knee was in a painful spasm.
The major complaint of patients with knee pain caused by Trigger Points in the popliteus is pain when crouching or walking, especially downstairs or downhill. Often overlooked in knee pain complaints, I pay attention to these deep little muscles in my Neuromuscular Therapy center near Boston.
The popliteus is a triangular flat thin muscle behind and below your knee. It's tendon attaches at the outside of your knee on the thigh bone (femur) and spreads across the space between the two bones of the lower leg to the bigger of the two (tibia) in a wide attachment along the ridge of bone below the inner crease in your knee.
The popliteus has an important function of preventing your thigh bone from sliding off the lower leg bones when your knees are bent, like when you're going downstairs, crouching, skiing or hiking downhill, or walking in high heels!
The action of the popliteus when it contracts is twofold. 1) It rotates your lower leg at the knee like when you do a twisting turn to change direction in sports. Any action that can tear the cruciate ligament can also injure the popliteus. 2) The second action is to unlock your knee. It stays active through any weight-bearing bent-knee activity.
The plantaris is a delicate little muscle that crosses the space behind your knee. It doesn't do much by itself, but it helps invert your foot and point your toe. It's Trigger Point is behind the knee and down into the calf.
Both pop and plant muscles can be aggravated by flat feet or from walking on a slanted surface. So wearing an arch support and walking the beach in both directions are good ideas! Remember not to overload them during a flare-up.