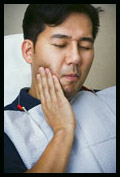 Rodney had been coming regularly to the Massage Therapists in our Neuromuscular Therapy center in Metro West Boston for over a year mostly for maintenance, but he also had specific complaints of jaw and shoulder pain. He decided to try some Neuromuscular Therapy to see if he could get more relief for the shoulder and upper back pain that had been nagging him for years. The significance of the jaw pain emerged after his shoulder pain had been significantly reduced within a few sessions.
The connection between the shoulder and jaw pain turned out to be a lower limb length inequality (LLLI). Once that was discovered, a simple and inexpensive heel lift leveled his pelvis and therefor his shoulder girdle. The tilted axis at the shoulder had caused his jaw to become misaligned at the temperomandibular joint which had led to the TMJ dysfunction and pain. Correcting the inequality in leg length meant the muscles no longer had to work overtime to try to keep the jaw in line. The job now became releasing the chronic tension and addressing other perpetuating factors.
Rodney's symptom of pain when he chewed was a real problem. He was a "foodie!" Can you imagine the enjoyment of your food being interrupted by pain when it was so important? Massage Therapy techniques, even intraoral work had not been enough to alleviate the pain and stop his being distracted during a gourmet meal. There had to be more that could be done. Let the man enjoy his food!
So began our investigation of his jaw muscles. This post begins a series on jaw pain and TMJ dysfunction. Read the next posts about TMJ treatment and how a Neuromuscular Therapist views this condition.