Dupuytren's Contracture is a condition in which the hand curls up into a claw. The beginning stages can be painful. Often genetically inherited, steroid or enzyme injections can help and the contracture can be released surgically if it gets to a critical point. The effects can be mitigated with specific deep tissue work like Neuromuscular Therapy.
Some causes are genetics, trauma to the palm, repeated cupping or grasping with the hand, and conditions like diabetes or alcoholism. What happens is that the palmar fascia shrinks and thickens, often forming bumps and then taut bands of tissue mostly on the pinkie and ring finger side of the palm. The fingers close up slowly and need to be opened up with manual treatment to prevent the eventual loss of function.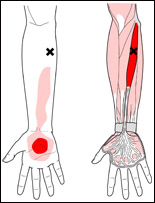 As a Neuromuscular Therapist, I am very interested in a Trigger Point in the palmaris longus muscle in the forearm that connects to the palmar fascia. Contraction of that muscle can cause a similar clawing of the hand and referred symptoms in the palm that approximate true Dupuytren's Contracture.
Treatment involves pressure release of the palmaris longus and finger flexor muscle bellies in the forearm, warming and lengthening the fascia and the flexor tendons in the palm with stretching and massage techniques, and treating all of the small muscles in the palm, including the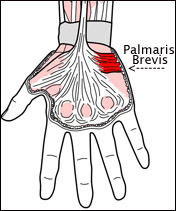 palmaris brevis that attaches to the fascia. Specific pressure on the thickened nodules helps to disperse them.
Prevention of recurrence requires limitation of activities using anything that must be grasped in the hand. Carpentry or gardening hand tools, a walking cane, a sports racquet, and extended tense gripping of a computer mouse or pen can activate or perpetuate symptoms.
For home maintenance, warming and stretching the hand helps. Spread the fingers then press the fingers of both hands together to increase the range of motion. Massage with slow deep strokes from the wrist outward to the fingers. Press deep into the palm. Stretch the fingers and wrist backward slowly, holding for two seconds and repeating 10 times.
This is a series on arm and hand pain from my Neuromuscular Therapy center near Boston. If you missed the beginning, go back to the "Checklist of Causes."