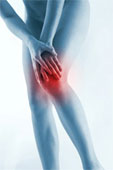 Joelle G., a woman in her 40s, was referred by her doctor to my Neuromuscular Therapy Center Southwest of Boston for help with her knee pain. She was limping badly and couldn't completely straighten one leg. It hurt too much to climb stairs, so working in a building with an elevator was a good thing!
One knee had already been surgically repaired. She was trying to avoid cutting into the other because the repaired knee was still painful and perhaps even worse than before the surgery. Joelle had a great attitude, but was getting discouraged and fearful of what her future might be.
Symptomatically, she had pain all around her knee, the pain being worse in back. All the muscles in her thigh felt tight, especially those in front. She limped noticeably while walking and couldn't climb stairs. Joelle understood that treatment would take awhile, but was willing to give it a try to avoid surgery.